A former member of the House Representatives and exponent of Not Too Young To Run, Hon Tony Nwulu, has backed Senator Samuel Anyanwu, for the position of National Secretary of the Peoples Democratic Party, PDP.
Anyanwu was adopted the consensus candidate for the post of National Secretary by leaders of the PDP in the South East zone ahead of the party's national convention scheduled to hold between October 30-31.
In a statement, Nwulu said Senator Anyanwu's "consensus nomination is expected and well deserved, considering his track records, impressive representation of the good people of Owerri zone at the Senate, positive antecedents, a team player and his fairness to all, irrespective of political leanings"
Nwulu, who took part in Imo governorship election in 2019, also said Senator Anyanwu's nomination "is also a reflection of his acceptance by our party leaders in the South East, who identified him as a man of impeccable character, an astute politician and unrepentant believer in the ideals of our great party"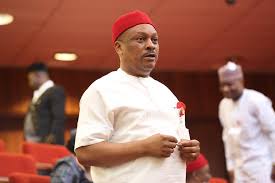 He continued "It also signposts the overwhelming confidence reposed in him by leaders, elders, stakeholders and members of our great party, the Peoples Democratic Party, PDP in the South East zone and the nation at large"
"I remain confident that Senator Anyanwu's consensus nomination as National Secretary of our party has already translated to victory at the national convention of the PDP scheduled to hold on October 30-31, 2021″
"I declare my total and undiluted support for Senator Anyanwu, and call on men and women of goodwill, our party members nationwide, to rally round him to emerge victorious as National Secretary of the PDP at the national convention" Nwulu declared.
Senator Anyanwu had represented Imo East senatorial zone in the senate from 2015- 2019. During his stay in the senate, he was Senate Committee Chairman on Ethics and Privileges. He also vied for Imo governorship on the platform of the PDP in 2019.